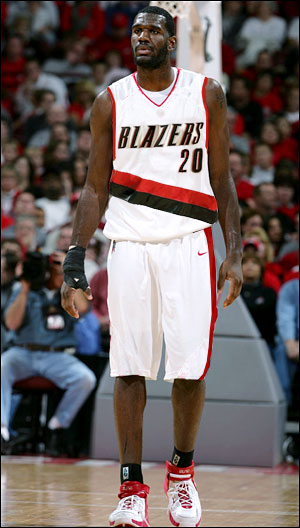 The
Toros
won a matinee yesterday that featured newly signed PF Andre Brown (recent Bobcats cut) and newly assigned center Anthony
Tolliver
, whose 46 minutes were on loan from the parent club. To this duo add the names of Spur Blake
Ahearn
and recent Spurs draft picks Marcus Williams and
Malik
Hairston
--you have the parts for a powerhouse farm team. For the Spurs, the
Toros
are not a token investment.
R.C. Buford recently participated in a
Spurs.com Q and A
, part of which ran like this:
Question: What rule changes would you like to see implemented with regard to the NBDL?

R.C. Buford: I guess that if there's anything that I'd like to see changed it's the limitation of only two years for assignment players.
If pressed, I'm confident Buford would also welcome expanding the maximum number of players on assignment from two to three or four. In fact, he would allow the Association any tweaks to the
NBDL
that would transform it into a true farm system.
When the Spurs purchased the
Toros
, Buford committed time to studying the Cleveland Indians utilization of the
MLB
farm system. As front-office Batman and Robin,
Popovich
and Buford have mastered the difficult task of culture creation, the shrewd business of appropriating the international player pool, and now they're onto their latest ahead-of-the-curve project: fashioning the Austin
Toros
into a whiz-bang machine of NBA player development. (I guess that makes Dell
Demps
either Alfred Pennyworth or Sasha Bordeaux, whichever way you prefer to see it.)
Earlier in the season, the Spurs tipped their hat to Buford's
MLB
study by sending second year center Ian
Mahinmi
down to the
Toros
on a rehab assignment, not unlike a baseball team directing a rehabbing pitcher through
Farmville
in route to a big league mound. Ian
Mahinmi
is Buford's poster child on how the
NBDL
could be a force in shaping future NBA rosters. No player better symbolizes the efforts of the Spurs to turn D-League coal into Association diamonds than
Mahinmi
.
In theory, at least.
Since joining San Antonio,
Mahinmi
has been a poster child of a different sort. His
MLB
-like rehab stint quickly morphed into a posh suited re-injury stint. The photo inside the
Mahinmi
frame is that of a frail child. He's gone all Greg
Oden
on the Silver and Black.
Greg
Oden
represents the future of Portland, whether rightly or wrongly. He is the big man of the next decade, the face of the front court.
Mahinmi's
expectations are on a smaller scale, but he is at least the big man who's got next. Not so much the successor to Tim Duncan as much as the long-awaited successor to David Robinson. The face of the Spurs future front court.
I'm not suggesting Ian
Mahinmi
is a Greg
Oden
talent. Far from it. But like
Oden
,
Mahinmi
has talent-enough. He should eventually assume a place in the Spurs starting line up--even modest numbers this season would well serve the Spurs underachieving front court. On the court, he's a tease. Hubie Brown would use words like "tremendous", "upside", and "potential" in some combination to describe
Mahinmi
. Back in May,
SI's
Chris
Mannix
contributed this evaluation
:
"

Mahinmi

has the potential to be an All-Star," an Eastern Conference executive said. "He needs to get a little stronger, but he has the skill set to play inside and outside. I can see him being a very good player on a contending team."

Over the summer,
Mahinmi's
game and frame continued to develop. His confidence and physique were on the come up.
Mahinmi
, speaking of himself:
Physically, I'm transformed. Compared to my arrival in San Antonio, I am no longer the same. Tim Duncan has given me a new nickname: Two

Niney

, as if I was 290 lbs. [paraphrase from the Google translation]

Physically impressive or not,
Mahinmi's
body simply won't cooperate with his aspirations. Like
Oden
,
Mahinmi
has been saddled with injury since his arrival in the pros. His 2007-8
NBDL
campaign was replete with injury, and although those injuries were never serious, they were frequent. Prior to camp,
Mahinmi
suffered a high ankle sprain and has, more or less, been on the bench since that time. One must qualify such statements with "more or less" because
Mahinmi
did play briefly in Austin
--just long enough to re-injure himself. So, if you're keeping score at home, that means
Mahinmi's
rehab stint resulted in a return to the Spurs because of a--wait for it--injury. One can only wonder, will Mahinmi ever see a long stretch of games without injury?
There are Blazers fans who watch each minute of
Oden's
play with a mixture of excitement and fear; excitement for the potential greatness, and fear for the potential injury. No one is sure which comes next. Injury potential is exponentially higher for players like Greg
Oden
and
Yao
Ming than, say, Tim Duncan and Dwight Howard. This is simple fact, even if it's not their fault. Blame the stars. But who would doubt that preseason Vegas odds were better for Tracy
McGrady
to miss regular season games with injury than for the
Lakers
to win the title?
What does this mean for
Mahinmi's
immediate future with the Spurs? Jeff McDonald was kind enough to take up this question
in a recent mailbag
: "Pop says there is "no plan" to get
Mahinmi
some court time while he's in San Antonio. So he appears to be ticketed for Austin again, at some point." Translation: the 22 year old Frenchman is not healthy enough to play.
Writing after Greg
Oden's
most recent injury,
David Thorpe remarked
:
So considering that

Oden

is yet again hurt, and he is so after just one quarter of his first game, I'm left to feel that this will be normal for the rest of his career...

It's apparent to me that he'll never develop into the superstar he was sure to become because he'll never be healthy enough long enough for that to happen. That's horrible for Greg, Blazer fans, and for basketball fans to swallow, but it seems accurate to me.

The same pessimistic spirit that the
Oden
injury plague conjured up in David Thorpe works in me. I hope he's wrong about
Oden
, and I hope I'm wrong about
Mahinmi
. But my big man of the future exuberance gets darker with the day.
(HT: Duncan228 for the Mahinmi source and quote)